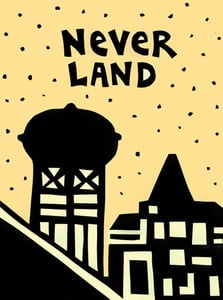 $

5.00
A post-modern fairytale of love, loneliness, and mordant self-deprecation, NEVERLAND is Dave Kiersh's ode on the teenage pining for affirmation in the stale world of suburbia. What happens to lost boys when they grow up, and their fantasies are no longer innocent? Believing doesn't always mean you can fly. Bad luck with girls, loneliness and the need to escape clashes with a Peter Pan sentiment.
2 color comic book.
Perfect bound, 32 pages.
Published by Bodega.
Only a couple left.